Christoph Baur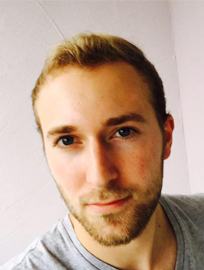 Christoph Baur, M.Sc.
PhD
Candidate
c.baur [@] tum.de
Chair for Computer Aided Medical Procedures & Augmented Reality
Fakultät für Informatik
Technische Universität München
Boltzmannstr. 3
85748 Garching b. München

Office
MI 03.13.060
Research on Deep Learning for Medical Applications
Medical Image Segmentation
Unsupervised & Semi-Supervised Domain Adaptation
Generative Adversarial Networks
Variational Autoencoders
Anomaly Detection
Student Projects
Unsupervised Anomaly Detection using Deep Generative Models
Feel free to contact me or drop by at my office if you are looking for a Bachelor Thesis, Master Thesis, IDP or Guided Research Project in winter semester 2017! Open projects will be announced here as well.
Projects & Interests
MS Lesion Segmentation in multimodal & multidomain MRI data
Catheter Detection in X-ray images
Mitotic figure detection in histology images of breast cancer
Teaching
Scholarship & Awards
Best Paper Award at MIAR Conference 2016, Bern, Switzerland
3rd rank in MICCAI-AMIDA13 challenge for Automatic Models for Mitosis Detection in Breast Cancer Histology Images
3rd rank at the Intel Leibniz Challenge 2009
1st rank at the Neoflash Coding Competition 2009
Publications
2017
B. Wiestler, C. Baur, P. Eichinger, , T. Zhang, V. Biberacher, C. Zimmer, , J. Kirschke, S. Albarqouni
Fully Automated Multiple Sclerosis lesion detection on multi-channel subtraction images through an integrated Computer Vision- Machine Learning pipeline
Clinical Neuroradiolgy (2017) 27:S1-S118 (bib)
C. Baur, S. Albarqouni, N. Navab
Semi-Supervised Learning for Fully Convolutional Networks
Accepted to Proceedings of the 20th International Conference on Medical Image Computing and Computer Assisted Interventions (MICCAI), Quebec, Canada, September 2017
A pre-print version is available online at arXiv.
The first two authors contribute equally to this paper. (bib)
2016
C. Baur, S. Albarqouni, S. Demirci, N. Navab, P. Fallavollita
CathNets: Detection and Single-View Depth Prediction of Catheter Electrodes
7th International Conference on Medical Imaging and Augmented Reality (MIAR), 24-26 August, 2016, Bern, Switzerland. (Best Paper Award) (bib)
S. Albarqouni, C. Baur, F. Achilles, V. Belagiannis, S. Demirci, N. Navab
AggNet: Deep Learning from Crowds for Mitosis Detection in Breast Cancer Histology Images
IEEE Transactions on Medical Imaging (TMI), Special Issue on Deep Learning, vol. 35, no. 5, pp. 1313 - 1321, 2016.
The first two authors contribute equally to this paper. (bib)
2015
C. Baur, F. Milletari, V. Belagiannis, N. Navab, P. Fallavollita
Automatic 3D reconstruction of electrophysiology catheters from two-view monoplane C-arm image sequences
The 6th International Conference on Information Processing in Computer-Assisted Interventions (IPCAI) (bib)
UsersForm
Title:
-none-
Circumference of your head (in cm):
Firstname:
Christoph
Middlename:
Lastname:
Baur
Picture:
Birthday:
Nationality:
Germany
Languages:
Groups:
Registration/Visualization, Segmentation, Machine Learning for Medical Applications, Crowdsourcing
Expertise:
Position:
Scientific Staff
Status:
Active
Emailbefore:
c.baur
Emailafter:
tum.de
Room:
MI 03.13.056
Telephone:
Alumniactivity:
Defensedate:
Thesistitle:
Alumnihomepage:
Personalvideo01:
Personalvideotext01:
Personalvideopreview01:
Personalvideo02:
Personalvideotext02:
Personalvideopreview02: