Ing. John T LaMaster, M.Sc.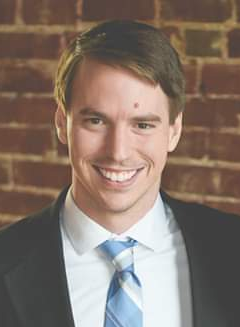 John LaMaster
PhD Candidate
About me
I studied Biomedical Engineering in St. Louis, MO (USA) at Saint Louis University (B.S. 2014) where I focused on regenerative medicine. I then completed the Erasmus Mundus' Common European Master's Course in Biomedical Engineering (CEMACUBE) at RWTH Aachen University (RWTH Aachen, Germany) and the Czech Technical University in Prague (ČVUT Prague, Czech Republic) where I specialized in Medical Imaging Instrumentation (M.Sc. 2016). My interests have evolved from tissue engineering in my bachelor's to medical imaging in the master's, and I am now focusing on medical image processing and analysis based on machine learning and deep learning techniques primarily using MR images, MR spectroscopy, and tumor simulations. My current research, funded by the DAAD, focuses on integrating MRSI data into image-based deep learning networks to create computer-aided diagnostic (CAD) devices for use in diagnosing brain tumors.
Research Interests
Medical image analysis
Data simulation: using tumor growth models and GANs to simulate large volumes of tumor data
Multiparametric MR data: working with different imaging sequences such as FLAIR, T1, T1CE, and T2 along with MR spectroscopy
Computer-aided diagnositc algorithms (CAD devices): using machine learning techniques for disease predictions
Current Research Projects
CNN-based techniques for MR spectroscopy quantification
CNN-based techniques for unsupervised MRS data processing
GAN-based approach for MRS domain adaptation
Available Projects
Please contact me for available student projects (M.Sc thesis, B.Sc. thesis, semester projects) if you are interested in medical image analysis for brain applications based on MRI images and MR spectroscopy. Please include your CV and transcript as well.
Incorporating MRS Data into a Multimodal Bayesian Tumor Growth Model for Glioblastoma
Background
2018 Began Ph.D at TU Munich - DAAD Fellow
2016 M.Sc. Biomedical Engineering - Czech Technical University in Prague, Prague, Czech Republic
2014-2015 RWTH Aachen, Aachen, Germany
2014 B.Sc. Biomedical Engineering - Saint Louis University, St. Louis, MO USA
2011 Study Abroad - Saint Louis University - Madrid, Madrid, Spain