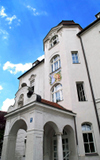 Since 2004, a strong collaboration between surgeons and computer scientists has been established and resulted in a large number of international publications and various research projects.

The current research focus is medical augmented reality and computer assisted interventions for: (i) anatomy/rehabilitation learning, (ii) medical training and simulation environments, (iii) interventional imaging, intraoperative navigation and visualization, and (iv) surgical devices/systems for therapy delivery.
Größere Kartenansicht
Directions: Via public transport (U-Bahn or Tram: Sendlinger Tor Platz), then walk along Nussbaumstrasse until you reach the main entrance of the Klinikum. Once you enter the main entrance, turn left, walk past the cafeteria, walk up the stairs to the 2nd floor and turn left, through the glass door. Enter the door straight in front/right of you.