AR Lab
Demo Notebooks
There are two Demo Notebooks available for general lab and demo purposes
Steps to make a raw backup:
Attach Mr Pink or Mr Blue to Ethernet (WLAN won't do)
Boot ACRONIS Software (fetch CD from Patrick Maier, press F12 to enter boot menu)
Choose category Backup
Choose My Computer to make a raw backup of all harddisks (don't panic, they will be compressed)
Select all harddisks for backup, press next
Select a storage location for the backup

Choose *Network neighborhood"
Choose Camp as workgroup
Choose campdata
Enter your login credentials (don't check the NT-authentification checkbox and don't forget to prepend your login with CAMP\)
Press the long button to check the connection. It should be successful.
Go to directory \\CAMPDATA\staff\FAR\DemoNotebooks\hdd_image\
Choose a suitable filename
Press OK

Select new backup archive and press Next
Select Complete and press Next twice
Under compression rate, choose high, press Next
Enter a comment, if you like, press Next
Press complete
Go and cook coffee for the others
ART-Tracking
Hardware
Hardware setup of the tracking system on atnavab35
Networkadapter with 4 connectors for the camera data
Network adapter with 4 BNC Connectors for the camera sync signals
Marker Balls
they are expensive, so take care of them
if you need some, see MarkerKugeln
Software
Settings/Network:

UDP addresses for the three computer atnavab14-16

131.159.10.59 Port 5000
131.159.10.60 Port 5000
131.159.10.61 Port 5000

Data Divisor 3
Output only 6D
Protocol ASCII
Calibration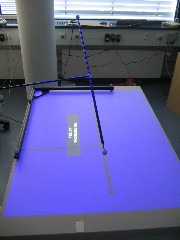 ART Calibration
If you need to calibrate the room (and you need to), this is how you do:
make sure the Tablebeamer is started in full screen mode
Calibrate te TableBeamer
place angle bracket so that bottom left corner of image is on middle of corner marker
hide all other markers, make sure cameras show "0"
In D-Track: Calibrate -> Room -> Continue
Wave around D-Track wand and make sure all cameras show "6" most of the time, this takes a couple seconds
Check results, select ok
You sometimes need to recalibrate bodies in D-Track, if you had to, this is how:
Settings -> Tracking -> number of 6d bodies: 6
Calibrate -> Body , due to body. Then wave the above bodies, one by one.
To add new bodies do the following:
In D-Track: Settings increase number of 6d bodies by one
Settings -> Advanced : Set body active
Settings -> Advanced -> body n Setting : Edit the name of the new body
Hide all other bodies
Place the new body on the table and make sure that all cameras can see all markerballs
Calibrate -> Body, due to body
Check results, select OK
Table Beamer (on atnavab16)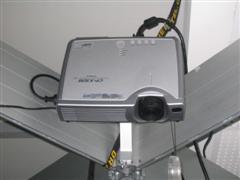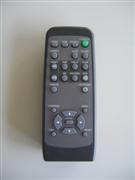 Table Beamer and its remote control
The TableBeamer is a Hitachi CP-X328.
Software
The X server on atnavab16 is configured to use two seperate screens
To start programms on the second display simply start them with the
-display=:x.y
commandline option. This does not work with the viewer, since no variables can be set in the ServiceDescription's startCommand. You will have to write a small shell script to change the display environment variable:
export DISPLAY=:0.1
Calibration
By convention adjust beamer image width to 1m on the projection table.
Wireless LAN (AR-Lab)
Some nive text about the
AR-Lab
named W-Lan.
See Through Laptop (lapnavab49)
This a HP tablet PC running Linux and Windows XP on dual boot. See FarComputers
Sound System (Dolby 5.1) (on atnavab14)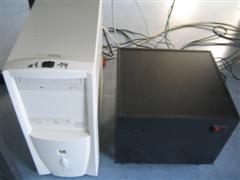 Sound System
The Sound System is a XXX. In correspondence to the ART calibration which defines the negative Z-axis towards the south, the center speaker is placed in te south as well (TODO).
Sony Glasstron PLM-S700E
Two computers are configured for the Sony Glastron HMD:
the tabletpc wnavab14
atnavab15
Just put it on the second monitor plug. It is configured in Twinview Clone mode and display exactly the same Screen as the main monitor. Make shure the batteries of the HMD are loaded.
Intersense
The Intersense Tracking System is not installed at the moment. This may be part of future work.
OptiTrack?
---
Outdated
Rechner:
Inventar: