Desktop Augmented Reality
"This is the most stupid demo I've ever seen"
(says Joe) This Augmented Reality demo displays a tiny virtual firework right on your real desktop. It is based on ARToolKit, a software library for building Augmented Reality (AR) applications. These are applications that involve the overlay of virtual imagery on the real world. This ...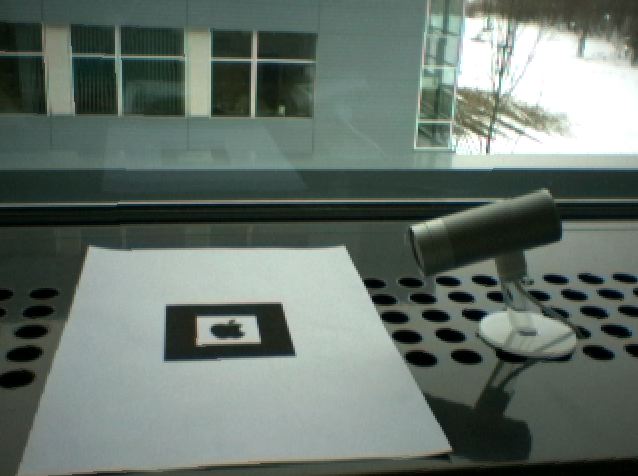 ... leads to ...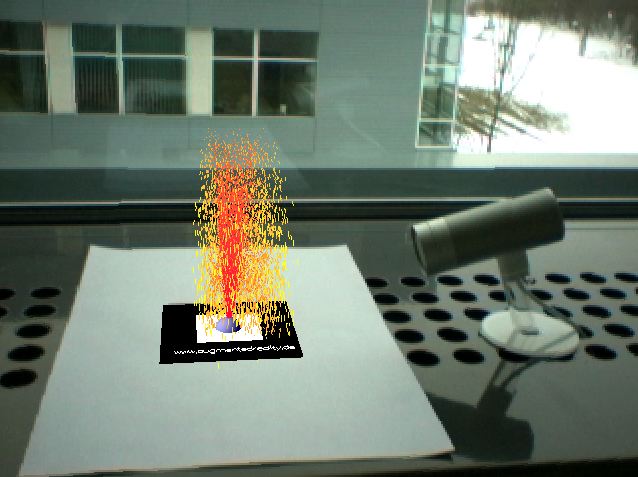 The demo is designed to be easily clickable on every Macintosh computer equipped with a Quicktime compatible digital camera. Any USB or FireWire camera will work, though you will get the best performance using a FireWire camera (like the Apple iSight).
How to try:
download the current version of the application
print out the marker file ("apple pattern.pdf")
plug in your camera
double-click the "AR Toolkit Demo" icon
point your camera to the marker on the paper (as seen in the left screenshot above)
a firework will appear on the camera image, as seen on the right screenshot above
move the camera, move the marker printout, and see how the firework moves with the paper.
Known Bugs:
The application quits without further notice when no camera is connected. Plug in your camera first.
To display the animation, the marker needs to be completely visible in the image. Partially occluded markers will not lead to a firework.
See a Movie:
If you dont have a camera available, see this movie.
Credits:
This demo was implemented based on ARToolkit in February 2004 by
Martin A. Bauer
Institut für Informatik/I16
Technische Universität München
Botzmannstr. 3
85748 Garching b. München
martin.bauer@in.tum.de
ARToolKit
is primarily being developed by Dr. Hirokazu Kato of Osaka University, Japan, and is being supported by the Human Interface Technology Laboratory (HIT Lab.) at the University of Washington, and the HIT Lab NZ at the University of Canterbury, New Zealand.  ARToolKit is distributed free for non-commercial use under the GPL license.