(Bachelor Thesis / Master Thesis / Diplomarbeit / SEP / Projekt Systementwicklung / IDP / Klinisches Anwendungsprojekt) Ultrasound Training Simulator using a Haptic Feedback Device
Advisor:
Prof. Dr. Nassir Navab
Supervision by:
Tobias Blum
Abstract
Learning how to correctly use ultrasound (US) is very difficult as, unlike for other imaging modalities like CT, it is very user-dependent and image quality is low. In order to allow better training methods we want to build an ultrasound training simulator. In previous work we have generated US images from a CT volume by simulating the physical process of US image formation. In this project, our existing simulation of images should be integrated with a haptic feedback device, to allow controlling the pose of a virtual ultrasound probe and simulate the body of the patient. The image below shows the general setup of the system.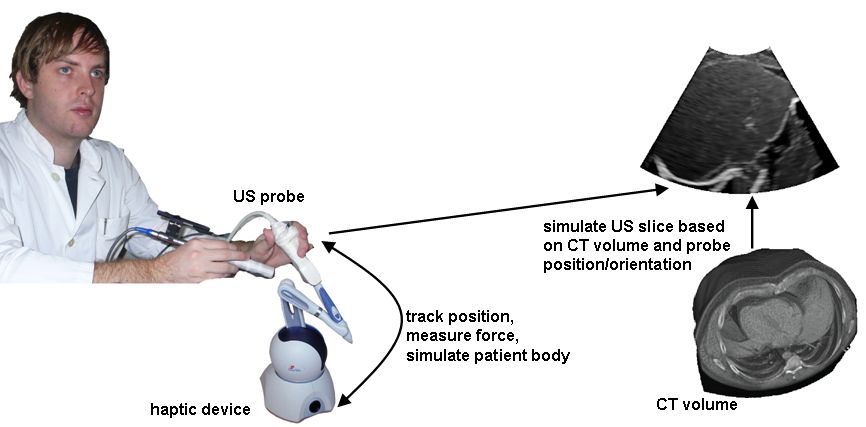 Action items
Look at frameworks for haptic simulation
Integrate haptic simulation
Try different visualization and interaction concepts
Possible extensions (in case of Master Thesis / Diplomarbeit)
Simulate deformation of soft tissue
Propagate the deformation to the simulation of the US image
Contact
If you are interested please contact
Tobias Blum
.
Students.ProjectForm
Title:
Ultrasound Training Simulator using a Haptic Feedback Device
Abstract:
Student:
Hongming Huai
Director:
Nassir Navab
Supervisor:
Tobias Blum
Type:
DA/MA/BA
Area:
Medical Imaging, Medical Augmented Reality
Status:
finished
Start:
Finish:
Thesis (optional):
Picture: