Diplomarbeit / Masterarbeit / Bachelor thesis (DA/MA/BA): Automatic detection and reconstruction of catheter-tips in X-ray images
[Subtitle]
Thesis by:
Advisor:
Professor Nassir Navab
Supervision by:
Pascal Fallavollita
Due date:
Abstract
The current incidence of sudden cardiac death (SCD) worldwide is 4 to 5 million cases per year. Left ventricular dysfunction, such as ventricular tachycardia (VT) is currently the best available predictor for SCD. An advanced technology called radio-frequency (RF) catheter ablation can help treat these disorders. This procedure involves inserting a catheter inside the heart and delivering RF currents through the catheter tip so as to ablate the arrhythmogenic site. The catheters contain a number of electrodes used to make intracardiac electrograms. Using these electrograms, the firing spot or conduction path causing the arrhythmias can be identified.
Objectives:
The aim of this project is to investigate image processing and pattern recognition techniques in order to localize automatically the catheter tip in 2D fluoroscopy images. Subsequent 3D reconstruction of the catheter tip and fusion of the electrical activation times will serve as a navigational tool for the electrophysiologists.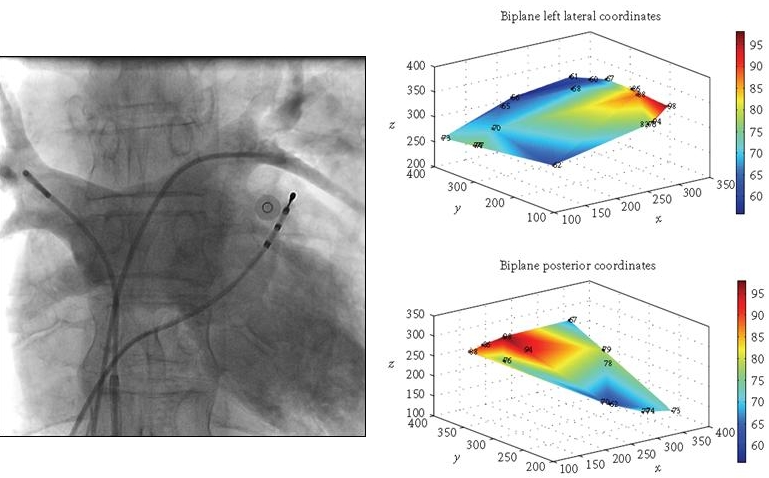 Requirements
MATLAB and/or C++ knowledge
Interest in medical imaging and computer assisted surgery.
Basic knowledge of pattern recognition and/or computer vision is recommendable.
What do we offer
Experience different fields of research in computer science: Computer Vision, Visualization, Software Engineering.
A possibility of solving a still-pending clinical problem.
Your thesis and degree. (and also submission to prestigious conferences/journals depending on student performance)
Contact
If you are interested please contact
Pascal Fallavollita