Diplom/Master Thesis/IDP: Design and development of Information presentaton (prioritization and transformation) manager in Driving simulator
Thesis by: still open
Advisor:
Gudrung Klinker
(Prof. Bubb (LfE, MW))
Supervision by:
Marina Plavsic
Due date:
Abstract
For supporting driver in driving task and increasing comfort in driving, advanced driving assistance systems (ADAS) has been developed (Active cruise control, Lane departure warning, Navigation, Collision warning etc.). With the increasing number of separately developed ADAS, also the amount of information increases, which the driver needs to handle. In addition, in case of uncoordinated ADAS systems, the danger of simultaneous feedback exists, which especially in crisis situations can be fatal. For preventing simultaneous feedback, information management (prioritization and transformation) is necessary. As part of your work you will do literature research of what kind of information is available in automobiles. Situations should be classified on the base of its complexity and driver's state. Algorithm for information presentation should be developed and implemented in fixed-based driving simulator of the Chair of Ergonomics (Faculty of Mechanical Engineering).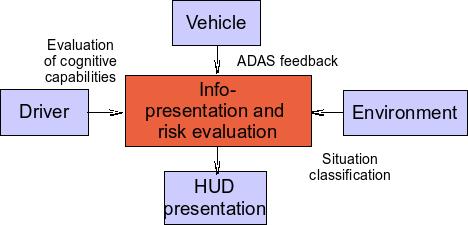 Starting Literature
A. Dugarry (2004) : Advanced Driver Assistance Systems Information Management and Presentation,
PhD?
Thesis, Cranfield University School of Engineering Applied Mathematics and Computing Group. M.A. Neerincx, M. Hoedemaeker, and E. de Gier (2006) : Adaptive In-Car User Interfaces Based on Personalized Workload Estimation, In: 16th World Congress on Ergonomics IEA2006.
When to start
As soon as possible
Useful Links
*
Link zum Fahrsimulator
*
Chair of Ergonomics
ProjectForm
Title:
Design and development of Information presentaton (prioritization and transformation) manager in Driving simulator
Abstract:
For supporting driver in driving task and increasing comfort in driving, advanced driving assistance systems (ADAS) has been developed (Active cruise control, Lane departure warning, Navigation, Collision warning). With the increasing number of separately developed ADAS, also the amount of information increases, which the driver needs to handle. In addition, in case of uncoordinated ADAS systems, the danger of simultaneous feedback exists, which especially in crisis situations can be fatal. For preventing simultaneous feedback, information management (prioritization and transformation) is necessary. As part of your work you will do literature research of what kind of information is available. Situations should be classified on the base of its complexity and driver's state. Algorithm for information presentation should be developed and implemented in fixed-based driving simulator of the Chair of Ergonomics (Faculty of Mechanical Engineering).
Student:
Director:
Supervisor:
Marina Plavsic
Type:
DA/MA/BA
Area:
Status:
open
Start:
Finish: