Evaluation of Software Defined Radio for Parasitic Tracking
Thesis by:
Reissner Ulrich
Advisor:
Manuel Huber
Director:
Gudrun Klinker
Due date: 26.09.2007
Abstract
This Sep focus on meassuring IEEE 802.11(Wireless Lan) signal strength with the
Universal Software Radio Peripheral(USRP)
and
GNU-Radio
.
The 802.11 signal is converted from analog to digital with the USRP, an later demodulated with GNU-Radio. This demodulated signal is used to extract the needed data, like signal strength, type and MAC-Address.
On the other side, data received with an Intel Corporation PRO/Wireless 3945ABG controler integrated into a Laptop, is used for comparsion.
At the end, a visualisation of both signals is done with
MagicMap
.
Parasitic Tracking
tracking infrastructure is not everywhere
use all posibilities for tracking
standard situation:

extra hardware
fixed application programming interface
in our case:

use only one hardware for all kind of tracking
use detail information to get better results
Altera FPGA
USB 2.0
up to 4 daughterboars with range form 1MHz to 3GHz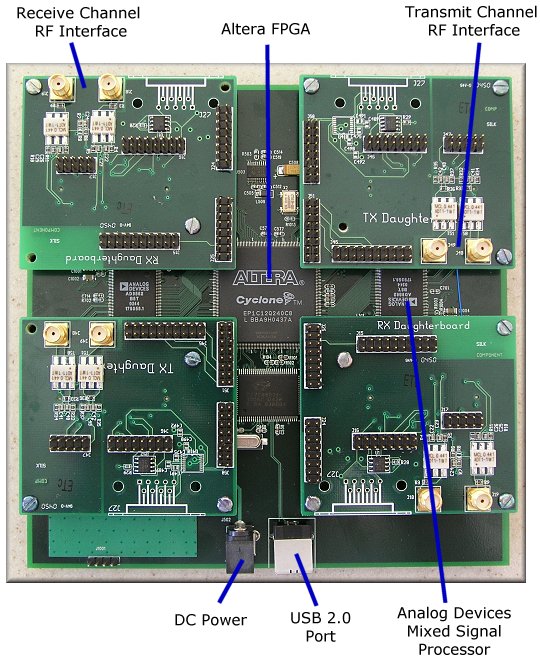 software defined radio
turns radio hardware problems into software problems
Signal Measurement
IEEE 802.11

Receive Signal Strength Indicator(RSSI) specified as optinal
value between 0 and RSSI_MAX
RSSI_MAX diffrent for each vendor
USRP

calculated over a definable number of bits received
RSSI_MAX can be self defined
Evaluation
Comparsion USRP - INTEL 3945ABG

empty room, only tables and chairs
4 access points with fixed positions
7 independent measurements, each 300 s long
USRP

62699 values
standard deviation : 4,67
values per access point per second : 7,46

INTEL

9905 values
standard deviation : 4,11
values per access point per second : 1,18
Advantages of USRP and GNU-Radio

use all packets, not only beacons
focus only on needed channels
calculate the RSSI over the complete frame
higher packet rate
combination with rfid, dect, bluetooth
Disadvanteges of USRP and GNU-Radio

need of extra hardware
more expensive than off the shelf hardware
lower range
higher power usage
high cpu workload
a bit higher standard deviation
only works with 1 Mbit/s at the moment
Further Work
implement channel hopping for USRP
improve RSSI calculation

use new gnuradio version
implement new functions

use new USRP version, to work with more than 1Mbit/s
expand for dect, rfid, bluetooth tracking
implement positioning algorithm
implement api for Ubitrack
Students.ProjectForm
Title:
Evaluation of Software Defined Radio for Parasitic Tracking
Abstract:
This Sep focus on meassuring IEEE 802.11(Wireless Lan) signal strength with the Universal Software Radio Peripheral(USRP) and GNU-Radio. The 802.11 signal is converted from analog to digital with the USRP, an later demodulated with GNU-Radio. This demodulated signal is used to extract the needed data, like signal strength, type and MAC-Address. On the other side, data received with an Intel Corporation PRO/Wireless 3945ABG controler integrated into a Laptop, is used for comparsion. At the end, a visualisation of both signals is done with MagicMap.
Student:
Reissner Ulrich
Director:
Gudrun Klinker
Supervisor:
Manuel Huber
Type:
SEP
Area:
Industrial Augmented Reality
Status:
finished
Start:
2006/11/01
Finish:
2007/09/31