NARVIS Lab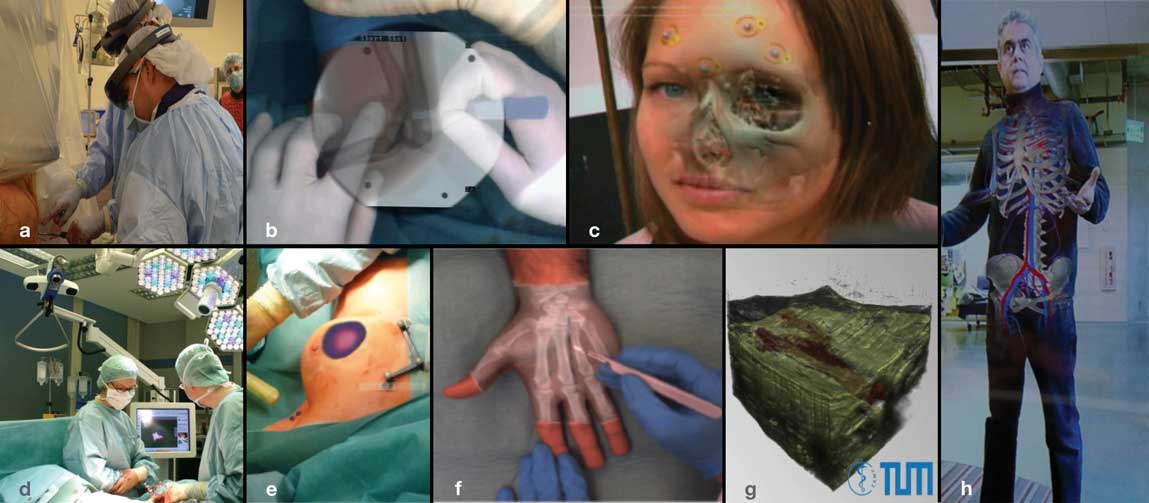 NARVIS has been the first to deploy advanced medical augmented reality solutions into operating rooms. The Camera Augmented Mobile C-arm has been validated in forty trauma surgical procedures (b) and freehand SPECT AR and VR augmentation (d, e) has been integrated into Sentinel Lymph nodes Biopsy (SLNB) procedures and used in thousands of such clinical interventions across Europe. In our recent research, machine learning and predicate based visualization techniques (f, g) introduce new paths towards relevance-based intra-operative multimodal data visualization. NARVIS is internationally recognized for its advanced research on optical (a) and video (c) see-through Head-Mounted Display (HMD) visualization in medical applications. In order to change the culture and increase the acceptance of AR by medical experts, we also have an active research project that integrates the magic mirror anatomy visualization (h) into the curriculum of medical students at TUM, LMU, and Johns Hopkins medical schools. Major industrial projects with Zeiss Meditec, Siemens Healthineers, and Stryker Navigation and Robotics, and close collaboration with expert surgeons at Munich hospitals and at Johns Hopkins medical school, provide us with unique opportunities for design, development, and deployment of advance visual computing solutions in computer assisted interventions.
Since 2004, a strong collaboration between surgeons and computer scientists has been established and resulted in a large number of international publications and various research projects.


The current research focus is medical augmented reality and computer assisted interventions for: (i) anatomy/rehabilitation learning, (ii) medical training and simulation environments, (iii) interventional imaging, intraoperative navigation and visualization, and (iv) surgical devices/systems for therapy delivery.


Größere Kartenansicht

Directions: Via public transport (U-Bahn or Tram: Sendlinger Tor Platz), then walk along Nussbaumstrasse until you reach the main entrance of the Klinikum. Once you enter the main entrance, turn left, walk past the cafeteria, walk up the stairs to the 2nd floor and turn left, through the glass door. Enter the door straight in front/right of you.
Ongoing Research