Development and evaluation of multiple alternatives for emulating a mouse on a touch-screen
[DE] Entwicklung und Evaluierung von verschiedenen Alternativen zur Emulation einer Mouse auf Touchscreens
Bachelors Thesis
(Bachelorarbeit)
Hier können weitere Informationen und weitere Themen gefunden werden
:
Tayfur Coskun
Abstract
This thesis discusses the development and evaluation of alternatives of emulating a traditional mouse on a touch-screen. The target hardware is a ruggedized Tablet-PC which can be used in difficult and dangerous situations. The interaction happens primarily with the thumbs of the user while holding said device with both hands.
[DE] In dieser Arbeit sollen Alternativen zur Emulation der herkömmlichen Maus auf einem Touchscreen entwickelt und evaluiert werden. Bei der Zielhardware handelt es sich um einen besonders robusten Tablet-PC, der auch in instabilen und gefährlichen Situationen verwendet werden kann. Die Bedienung erfolgt hauptsächlich mit den Daumen während der Nutzer das genannte Gerät mit beiden Händen hält.
Soft- and Hardware
Software: C# + WPF (Avalon) development with VisualStudio 2010.
Hardware: Tablet-PC Getac V200 Series device.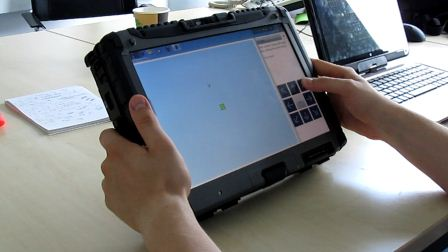 Downloads
Thesis PDF
(Please
contact me
if you need the password for the PDF file.)
Präsentation
(sorry, just in German)
ProjectForm
Title:
Entwicklung und Evaluierung von verschiedenen Alternativen zur Emulation einer Mouse auf Touchscreens
Abstract:
In dieser Arbeit sollen verschiedene Alternativen zur Emulation der herkömmlichen Mouse auf einem Touchscreen entwickelt und evaluiert werden. Einige Vorschläge für mögliche Alternativen werden hierbei initial gegeben. Das Einbringen eigener Ideen ist jedoch gerne gesehen. Bei der Zielhardware handelt es sich um einen besonders robusten Tablet PC, der auch in instabilen und gefährlichen Situationen verwendet werden kann.
Student:
Uwe Trottmann
Director:
Prof. Gudrun Klinker
Supervisor:
Dipl- Inf. Tayfur Coskun
Type:
Bachelor Thesis
Area:
Status:
finished
Start:
2011/04/15
Finish:
2011/08/15
Thesis (optional):
http://campar.in.tum.de/twiki/pub/Students/MouseEmulationTabletPC/main-0808-printversion.protected.pdf
Picture: