Dipl.-Inf. Univ. Tobias Blum
I have been with the Chair for Computer Aided Medical Procedures & Augmented Reality as PhD student and research assistant between 2007 and 2013.

As of March 2013 I moved to Ferchau Engineering and I am currently working for BMW Research and Technology on head-up displays and navigation systems.
email:
My work in the public and media
My work has been shown in the public at many events such as the IdeenPark and was featured several times in magazines and in TV.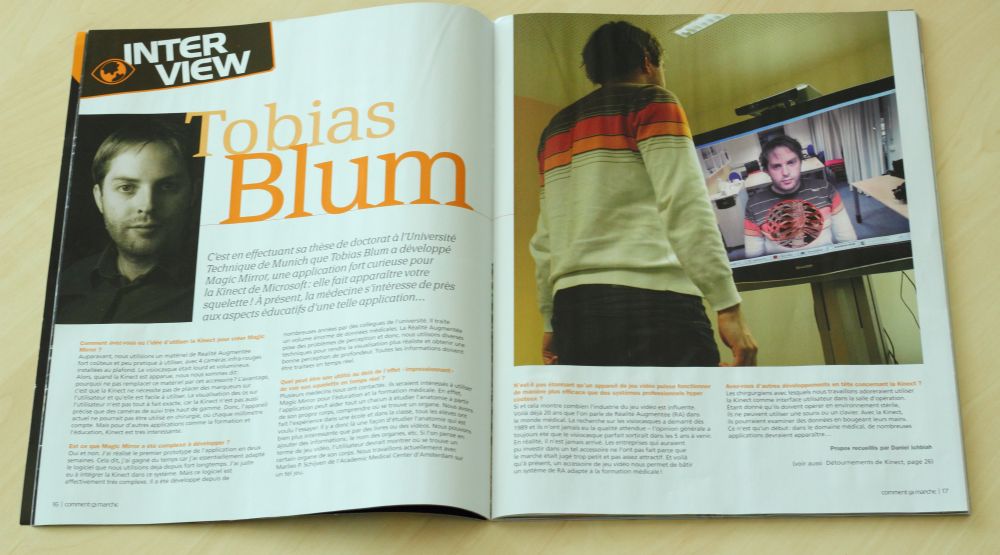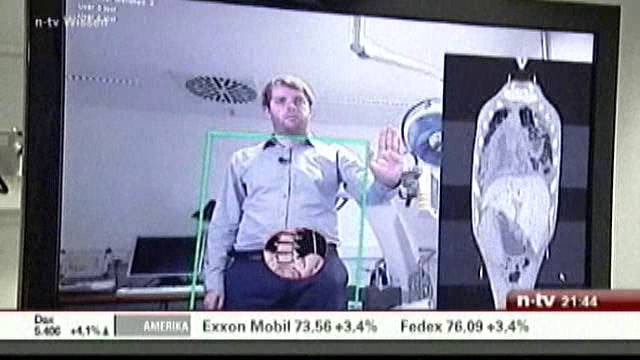 Research projects
mirracle

Using the metaphor of a magic mirror, mirracle shows an augmented reality overlay of a CT dataset onto a user standing in front of a big screen. We track the person using Microsoft Kinect. The system could be used for anatomy education or patient consulting. See http://www.mirracle.de for more information.
| | |
| --- | --- |
| | Surgical workflow recovery is a crucial step towards the development of intelligent support systems in surgical environments. The objective of the project is to create a system which is able to recognize automatically the current steps of a surgical laparoscopic procedure using a set of signals recorded from the OR. The project adresses several issues such as the simultaneous recordings of various signals within the OR, the design of methods and algorithms for processing and interpreting the information, and finally the development of a convenient user interface to display context sensitive information inside the OR. The current clinical focus is on laparoscopic cholecystectomies but the concepts developed in the project also apply to laparoscopic surgeries of other kinds. |
| | |
| --- | --- |
| | Providing feedback to trainees is one of the most important issues to support learning. This project researches how to give quantitative and visual feedback on the performance of a student when training on simulators or phantoms. Statistical analysis and probabilistic models are used to compare the performance of students and experts. Augmented Reality and video is used to give visual feedback like a synchronized replay of the student's and the expert's performance. |
| | |
| --- | --- |
| | We are simulating Ultrasound images from CT volumes by assuming a correlation between Hounsfield units and acoustic impedance. Rays are cast trough the CT volume to simulate the US image formation. Simulated Ultrasound from CT can be used for CT/Ultrasound registration by comparing a real US image to simulated ones. Another application of simulated US is training. |
Publications
T. Blum, A. Rieger, N. Navab, H. Friess, M. E. Martignoni
A Review of Computer-Based Simulators for Ultrasound Training
Simulation in Healthcare, to be printed 2013, published ahead-of-print (bib)
T. Blum, R. Stauder, E. Euler, N. Navab
Superman-like X-ray Vision: Towards Brain-Computer Interfaces for Medical Augmented Reality
The 11th IEEE and ACM International Symposium on Mixed and Augmented Reality (ISMAR), Atlanta, USA, Nov. 5 - 8, 2012. The original publication is available online at ieee.org. (bib)
A. Bigdelou, R. Stauder, T. Benz, A. Okur, T. Blum, R. Ghotbi, N. Navab
HCI Design in the OR: A Gesturing Case-study
MICCAI 2012 Workshop on Modeling and Monitoring of Computer Assisted Interventions (M2CAI), Nice, France, October 2012 (bib)
N. Navab, T. Blum, L. Wang, A. Okur, T. Wendler
First Deployments of Augmented Reality in Operating Rooms
IEEE Computer, Volume 45, Issue 7, pp. 48-55 (bib)
T. Blum, V. Kleeberger, C. Bichlmeier, N. Navab
mirracle: An Augmented Reality Magic Mirror System for Anatomy Education
IEEE Virtual Reality 2012 (VR), Orange County, USA, Mar. 4 - 8, 2012. The original publication is available online at ieee.org. (bib)
R.R. Shamir, L. Joskowicz, I. Tamir, M. Horn, T. Blum, N. Navab, J. Mehrkens, Y. Shoshan
A Method for Reduced Risk Trajectory Planning in Image-Guided Keyhole Neurosurgery
Conference of the Society for Medical Innovation and Technology (SMIT 2011), TelAviv, Israel, September 13 - 16, 2011 (bib)
R.R. Shamir, M. Horn, T. Blum, J. Mehrkens, Y. Shoshan, L. Joskowicz, N. Navab
Trajectory Planning with Augmented Reality for Improved Risk Assesment in Image-Guided Keyhole Neurosurgery
IEEE International Symposium on Biomedical Imaging: From Nano to Macro (ISBI 2011), Chicago, Illinois, USA, March 30 - April 2, 2011 (bib)
N. Padoy, T. Blum, A. Ahmadi, H. Feußner, M.O. Berger, N. Navab
Statistical Modeling and Recognition of Surgical Workflow
Medical Image Analysis (2010), Volume 16, Issue 3, April 2012 (published online December 2010), pp. 632-641. The original publication is available online at www.elsevier.com. (bib)
T. Blum, M. Wieczorek, A. Aichert, R. Tibrewal, N. Navab
The effect of out-of-focus blur on visual discomfort when using stereo displays
The 9th IEEE and ACM International Symposium on Mixed and Augmented Reality, Seoul, Korea, Oct. 13 - 16, 2010. The original publication is available online at ieee.org. (bib)
C. Bichlmeier, E. Euler, T. Blum, N. Navab
Evaluation of the Virtual Mirror as a Navigational Aid for Augmented Reality Driven Minimally Invasive Procedures
The 9th IEEE and ACM International Symposium on Mixed and Augmented Reality, Seoul, Korea, Oct. 13 - 16, 2010. The original publication is available online at ieee.org. (bib)
T. Blum, H. Feußner, N. Navab
Modeling and Segmentation of Surgical Workflow from Laparoscopic Video
Medical Image Computing and Computer-Assisted Intervention (MICCAI 2010), Beijing, China, September 2010 (bib)
T. Blum, N. Navab, H. Feußner
Methods for Automatic Statistical Modeling of Surgical Workflow
7th International Conference on Methods and Techniques in Behavioral Research (Measuring Behavior 2010), Eindhoven, The Netherlands, August 2010 (bib)
L. Wang, J. Landes, S. Weidert, T. Blum, A. von der Heide, E. Euler, N. Navab
First Animal Cadaver Study for Interlocking of Intramedullary Nails under Camera Augmented Mobile C-arm A Surgical Workflow Based Preclinical Evaluation
the 1st International Conference on Information Processing in Computer-Assisted Interventions (IPCAI), Switzerland, June 23 2010. The original publication is available online at www.springerlink.com. (bib)
T. Blum, S.M. Heining, O. Kutter, N. Navab
Advanced Training Methods using an Augmented Reality Ultrasound Simulator
8th IEEE and ACM International Symposium on Mixed and Augmented Reality (ISMAR 2009), Orlando, USA, October 2009, pp. 177-178. The original publication is available online at ieee.org. (bib)
T. Blum, M. E. Martignoni, H. Friess, N. Navab
An Ultrasound Simulator for Training using CT-based Simulation of Ultrasound Images
5th Russian-Bacarian Conference on Bio-Medical Engineering, Munich, Germany, July 2009 (bib)
N. Fritz, T. Meyer, T. Blum, H.U. Lemke, M. Ilzkovitz, Y. Nevatia, M. Nolden, I. Wegner, M. Weinlich, R. Breitkreutz, W. Wein, M. Lazerges, O. Angerer, N. Navab
CAMDASS: An Augmented Reality Medical Guidance System for Spaceflights
Proceedings of Computer Assisted Radiology and Surgery (CARS 2009), Berlin, Germany, June 2009 (bib)
T. Blum, N. Padoy, H. Feußner, N. Navab
Workflow Mining for Visualization and Analysis of Surgeries
International Journal of Computer Assisted Radiology and Surgery, Volume 3, Number 5, November 2008, pp. 379-386. The original publication is available online at www.springerlink.com. (bib)
T. Blum, N. Padoy, H. Feußner, N. Navab
Modeling and Online Recognition of Surgical Phases using Hidden Markov Models
Medical Image Computing and Computer-Assisted Intervention (MICCAI 2008), New York, USA, September 2008, pp. 627-635. The original publication is available online at www.springerlink.com. (bib)
N. Padoy, T. Blum, H. Feußner, M.O. Berger, N. Navab
On-line Recognition of Surgical Activity for Monitoring in the Operating Room
Proceedings of the 20th Conference on Innovative Applications of Artificial Intelligence (IAAI 2008) held in conjunction with the 23rd AAAI Conference on Artificial Intelligence, Chicago, Illinois, USA, July 2008, pp. 1718-1724 (bib)
T. Blum, N. Padoy, H. Feußner, N. Navab
Workflow Mining for Visualization and Analysis of Surgeries
Proceedings of Computer Assisted Radiology and Surgery (CARS 2008), Barcelona, Spain, June 2008, pp. 134-135 (bib)
N. Padoy, T. Blum, I. Essa, H. Feußner, M.O. Berger, N. Navab
A Boosted Segmentation Method for Surgical Workflow Analysis
Proceedings of Medical Image Computing and Computer-Assisted Intervention (MICCAI 2007), Brisbane, Australia, October 2007, pp. 102-109. The original publication is available online at www.springerlink.com. (bib)
T. Blum, T. Sielhorst, N. Navab
Advanced Augmented Reality Feedback for Teaching 3D Tool Manipulation
New Technology Frontiers in Minimally Invasive Therapies, 2007, pp. 223-236 (bib)
T. Blum, O. Häberle, M. Appel, H. Krcmar
Estimating the Financial Consequences of Using Augmented Reality in the Construction of Power Plants
Dritter Workshop Virtuelle und Erweiterte Realität der GI-Fachgruppe VR/AR, Koblenz, Germany, September 2006 (bib)
O. Häberle, T. Blum, H. Krcmar
Evaluating an Innovative Technology in the Presence of Uncertainty
12th Americas Conference on Information Systems (AMCIS 2006), Acapulco, México, August 2006, pp. 541-549 (bib)
T. Sielhorst, T. Blum, N. Navab
Synchronizing 3D movements for quantitative comparison and simultaneous visualization of actions
Fourth IEEE and ACM International Symposium on Mixed and Augmented Reality (ISMAR 2005), Vienna, Austria, October 2005, pp. 38-47. The original publication is available online at ieee.org. (bib)
T. Sielhorst, T. Blum, N. Navab
Quantitative comparison of movements for medical training
4. Jahrestagung der Deutschen Gesellschaft für Computer-und Roboter-Assistierte Chirurgie (CURAC 2005), Berlin, Germany, September 2005 (bib)
Awards
Teaching
Theses I have supervised
Previous projects I've done
Videos
Superman-like X-ray Vision: Towards Brain-Computer Interfaces for Medical Augmented Reality - ISMAR 2012
First Deployments of Augmented Reality in Operating Rooms - IEEE Computer, 45(7)
mirracle: An Augmented Reality Magic Mirror System for Anatomy Education - VR 2012
Augmented Reality Magic Mirror for Medical Data Visualization
Augmented Reality Magic Mirror using Kinect
The effect of out-of-focus blur on visual discomfort when using stereo displays - ISMAR 2010
Modeling and Segmentation of Surgical Workflow from Laparoscopic Video - MICCAI 2010
Advanced Training Methods using an Augmented Reality Ultrasound Simulator - ISMAR 2009
Workflow Mining for Visualization and Analysis of Surgeries - IJCARS 2008
Synchronizing 3D movements for quantitative comparison and simultaneous visualization of actions - ISMAR 2005