Corporate Seminar on Cutting-edge Tracking Technologies, Tech-Update and Training
Industrial tracking systems are an essential component of many modern products in the areas of medicine, industrial production and measurement, virtual and augmented reality, motion capturing and gaming.

For the past 8 years, we have deployed and experienced several different tracking technologies at our multidisciplinary chair for Computer Aided Medical Procedures (CAMP) in Technische Universität München.

Within our corporate seminar on "Tracking Technologies" we offer you an exceptional opportunity to gain more knowledge about the current spectrum of cutting-edge tracking solutions and their technical specifications, applications and limitations. The seminar covers established solutions such as optical and electromagnetic tracking as well as innovative methods such as inertial sensors, RFID, fiberoptical-tracking and Kinect.

In addition to the theoretical part, our experts from industry and academia will present several systems throughout hands-on sessions for better technical understanding.

We are looking forward to your participation and an inspiring and productive exchange of knowledge and experience.
Venue & Date
The seminar takes place on
May 14th
at the
Bundessport- und Freizeitzentrum
, Faaker See, Austria.
Registration
Please fill the form on
this page
to register for the seminar.
Topics
Optical tracking
Electromagnetic tracking
Inertial- and ultrasonic tracking
RFID tracking
Kinect and other depth cameras
Fiberoptical tracking
Rates
Early bird registration until March 15th: 2.000€
Regular Rate: 2.500€
Accommodation per night: 70€
Program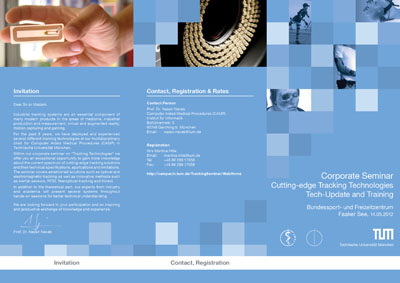 English version