Master thesis: MR integration of an intra-operative gamma detector and evaluation of its potential for radiation therapy
Master thesis/IDP:
open
Advisors:
affiliate Prof. Dr. Michael Friebe
Supervision by:
affiliate Prof. Dr. Michael Friebe
and
Philipp Matthies
Abstract
In der medizinischen Diagnostik hat sich in den vergangenen Jahren die Fusionsbildgebung (z.B. PET/CT und SPECT/CT) etabliert. Auch neue Verfahren wie z.B. das PET/MR werden hier erprobt. Die SurgicEye GmbH hat ein mobiles Verfahren entwickelt, um SPECT Bilder zu erzeugen. Erste Fusion mit anatomischer Bildgebung z.B. SPECT/Ultraschall wurde bereits als Prototyp realisiert. Eine Fusion von SPECT mit MR Bildgebung kann in diversen Anwendungen u.a. in der Planung der Bestrahlung und Dosis für die intraoperative Bestrahlung klinisch Sinn machen. Bisher ist kein robustes Verfahren bekannt das eine quasi simultane Aufnahme von MR und SPECT Daten erlaubt – dies soll erstmalig umgesetzt werden.
Goal
Ziel ist es, SPECT Bilder mittels einem Prototypen der erweiterten declipseSPECT Bildgebung in der Nähe eines Kernspintomographen zu ermöglichen und diese fusionierten Bilddaten zur Planung der Bestrahlung aufzubereiten. Im Rahmen des Vorhabens sollen auch Tests in einem Kernspintomographen erfolgen und Algorithmen zur Bildfusion entwickelt werden. Ziel der Arbeit ist es, die technischen Risiken dieser MR-SPECT Fusion abschätzen zu können um darauf basierend einen Entwicklungsplan auszuarbeiten.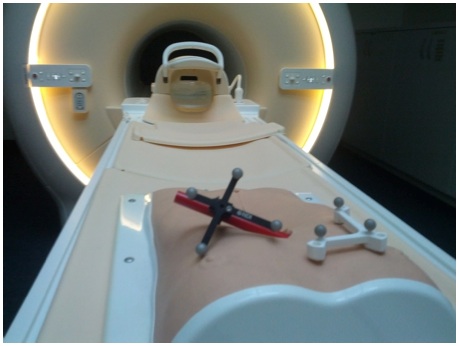 Supervision / Contact
This project is proposed and supervised by
affiliate Prof. Dr. Michael Friebe
(I16, CAMP, TUM) and
Philipp Matthies
. Working environment will be provided at IFL, Klinikum rechts der Isar, TUM, and CAMP, Garching.
ProjectForm
Title:
MR integration of an intra-operative gamma detector and evaluation of its potential for radiation therapy
Abstract:
Student:
Director:
affiliate Prof. Dr. Michael Friebe
Supervisor:
Philipp Matthies
Type:
DA/MA/BA
Area:
Status:
open
Start:
15.10.2013
Finish:
Thesis (optional):
Picture: