Fluid Simulation - Realistic simulation of cement flow
Thesis by: tba
Advisor:
Prof. Dr. Nassir Navab
Supervision by:
Patrick Wucherer
,
Philipp Stefan
Overview
http://www.sciencedirect.com/science/article/pii/S0720048X10000276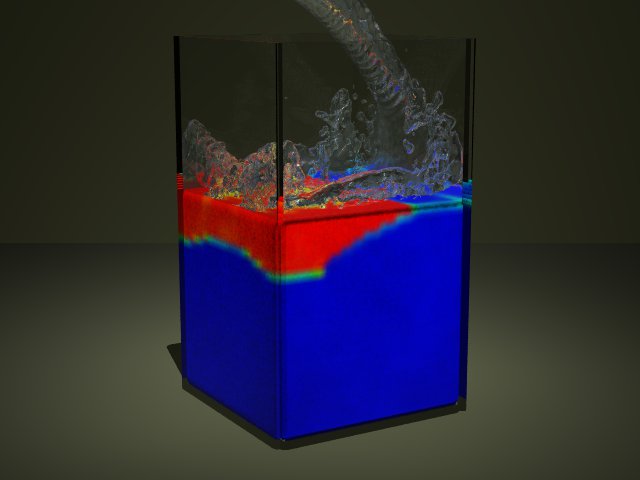 [Lenaerts2008]
Topic
The objective of this research work is the formulation of a computational model for realistic real-time simulation of the brittle, porous material of the bone and the interaction of bone cement and instruments with it. This is achieved using a GPU-accelerated mesh-free SPH approach based on the CT imaging data.
Contribution
The research goal contributes to the complete simulation of a minimally invasive surgery (MIS) called "kyphoplasty". The procedure is conducted on patients with fractured vertebrae in order to set the spine into an upright position and stabilize the vertebrae. First a cavity with a balloon catheter in the vertebra is created. Afterwards the cavity is filled up with cement [Hillmeier2003].
What do we offer
Experience different fields of research in computer science: Visualization, Software Engineering, Real-time Simulation, GPU Programming
Your thesis and degree. (and also submission to prestigious conferences/journals depending on student performance)
We offer an intensive supervision, but initiative is very welcome. Working environment will be provided at the NARVIS lab.
Requirements
Interest in fluid mechanics
Knowledge of a programming environment (for example Matlab or Python or C++) is required
Not mandatory: Arduino programming experience
Literature
A Particle-Based Model for Prediction of Cement Diffusion during Osteoporotic Hip Augmentation Surgery: Theory and Validation, Proceedings ASME International Mechanical Engineering Conference Exposition, Nov, Basafa, E. and Otake, Y. and Kutzer, M. D. and Armiger, R. S. and Armand, M., 2010, pp. 12–18
Z. Lian, C. Chui, und S. Teoh, "A biomechanical model for real-time simulation of PMMA injection with haptics", Computers in Biology and Medicine, Feb. 2008.
C.-K. Chui, J. S. K. Ong, Z.-Y. Lian, Z. Wang, J. Teo, J. Zhang, C.-H. Yan, S.-H. Ong, S.-C. Wang, H.-K. Wong, C.-L. Teo, und S.-H. Teoh, "Haptics in computer-mediated simulation: Training in vertebroplasty surgery", Simulation & Gaming, Bd. 37, Nr. 4, S. 438–451, Dez. 2006.
A. Hérault, G. Bilotta, A. Vicari, E. Rustico, and C. D. Negro, "Numerical simulation of lava flow using a GPU SPH model", Ann. Geophys., vol. 54, no. 5, Dec. 2011. "Computer simulation of polymethylmethacrylate bone cement flow", ANZIAM, Nr. J.47, S. C404–C418, 2006.
[Lenaerts2008] T. Lenaerts, B. Adams, und P. Dutré, "Porous flow in particle-based fluid simulations", in ACM SIGGRAPH 2008 papers on - SIGGRAPH '08, Los Angeles, California, 2008, S. 1.
[Hillmeier2003] J. Hillmeier, P. Meeder, G. Nöldge, und C. Kasperk, "Minimal invasive Reposition und innere Stabilisierung osteoporotischer Wirbelkörperfrakturen (Ballonikyphoplastie)", Operative Orthopädie und Traumatologie, Bd. 15, Nr. 4, S. 343–362, 2003.
Contact
ProjectForm
Title:
Fluid Simulation - Realistic simulation of cement flow
Abstract:
The objective of this research work is the formulation of a computational model for realistic real-time simulation of the brittle, porous material of the bone and the interaction of bone cement and instruments with it. This is achieved using a GPU-accelerated mesh-free SPH approach based on the CT imaging data. The research goal contributes to the complete simulation of a minimally invasive surgery (MIS) called "kyphoplasty". The procedure is conducted on patients with fractured vertebrae in order to set the spine into an upright position and stabilize the vertebrae. First a cavity with a balloon catheter in the vertebra is created. Afterwards the cavity is filled up with cement.
Student:
Director:
Prof. Dr. Nassir Navab
Supervisor:
Patrick Wucherer, Philipp Stefan
Type:
DA/MA/BA
Area:
Registration / Visualization, Medical Augmented Reality
Status:
draft
Start:
Finish:
Thesis (optional):
Picture: