Werner von Siemens Excellence Award 2006
Darko Zikic
,
Tobias Lasser
and
Christoph Bichlmeier
, three students of the CAMP chair, won this year's
Werner von Siemens Excellence Award
. The Werner von Siemens Excellence Award is presented every year to a set of selected German top university students. The objective is to encourage young people to demonstrate scientific excellence in dealing with practice-relevant questions. The award honors excellent final diploma theses, which provide innovative solutions to difficult problems. In addition to the evaluation of scientific achievements, the jury assesses the level of innovation and practicability of these excellent theses.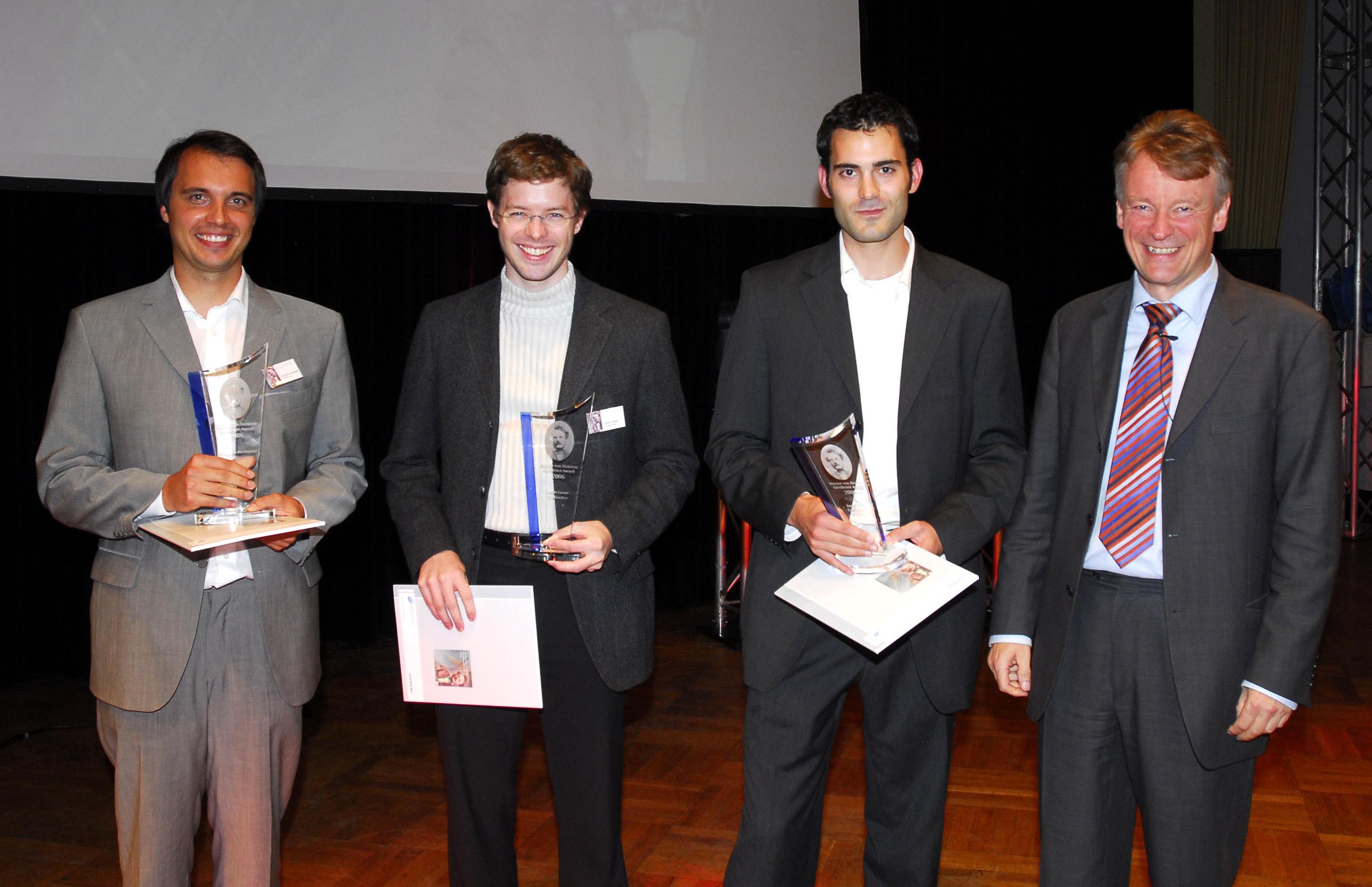 Click on the image to see the fullsize version.
Darko Zikic
-
Variational Deformable Registration for Medical Applications
Tobias Lasser
- Fluorescene Molecular Tomography: using 3D surface reconstruction from contours for non-contact acquisitions and reconstructions
T. Lasser, V. Ntziachristos
Surface Reconstruction from Contours for Non-contact Fluorescence Molecular Tomography
Biomedical Optics Topical Meeting (Optical Society of America), Fort Lauderdale, USA, March 19 - 22, 2006. (bib)
N. Deliolanis, T. Lasser, M. Niedre, A. Soubret, V. Ntziachristos
In-vivo Lung Cancer Imaging in Mice using 360° Free-space Fluorescence Molecular Tomography
IEEE 2006 International Conference of the Engineering in Medicine and Biology Society, New York City, USA, August 30 - September 3, 2006 (bib)
T. Lasser, V. Ntziachristos
Optimization of 360° projection fluorescence molecular tomography
Medical Image Analysis 2007, 11(4):389-399 (bib)
Christoph Bichlmeier
- Advanced 3D Visualization for Intra-Operative Augmented Reality
C. Bichlmeier, N. Navab
Virtual Window for Improved Depth Perception in Medical AR
International Workshop on Augmented Reality environments for Medical Imaging and Computer-aided Surgery (AMI-ARCS 2006), Copenhagen, Denmark, October 2006 (bib)
C. Bichlmeier, T. Sielhorst, N. Navab
The Tangible Virtual Mirror: New Visualization Paradigm for Navigated Surgery
International Workshop on Augmented Reality environments for Medical Imaging and Computer-aided Surgery (AMI-ARCS 2006), Copenhagen, Denmark, October 2006 (bib)
T. Sielhorst, C. Bichlmeier, S.M. Heining, N. Navab
Depth perception a major issue in medical AR: Evaluation study by twenty surgeons
Proceedings of Medical Image Computing and Computer-Assisted Intervention (MICCAI 2006), Copenhagen, Denmark, October 2006, pp. 364-372
The original publication is available online at www.springerlink.com (bib)
WebEventForm
Title:
Werner von Siemens Excellence Award 2006
Date:
31 October 2006
Location:
Abstract:
Darko Zikic, Tobias Lasser and Christoph Bichlmeier, three students of the CAMP chair, won this year's Werner von Siemens Excellence Award.
Imageurl:
Type:
News