For the IPCAI 2012 Conference page, please click here
IPCAI 2010, the 1st International Conference on Information Processing in Computer-Assisted Interventions, will be held on June 23 in Geneva, Switzerland (co-located with
CARS
). Based on a highly selective double anonymous review process, IPCAI is aiming at organizing an event in which the best conference articles in computer assisted interventions are reviewed, selected, presented, and actively discussed. The event is planned to be held biannually in the alternating years in which the
Information Processing in Medical Imaging (IPMI)
is not organized. Similar to
IPMI
, IPCAI makes sure that the paper selection process is finalized before paper submission deadline of the
MICCAI
conference organized in the corresponding year. This allows the authors of the papers not accepted by IPCAI criteria to resubmit a revised version of their paper to this conference. The format of the conference will be organized to allow more time for constructive discussion. For each presented paper, thirty minutes will be allocated with almost unlimited time for discussions with questions prepared by committee members. Papers will be published in proceedings (
LNCS Springer
). Additionally, selected papers could be part of special issues in the best available journals (e.g.
IEEE TMI
,
MedIA
,
IJCARS
).
News
Sign up for the conference dinner
Oral presentation time is 30 minutes followed by discussion.

Laptops and an LCD projector will be provided in the lecture halls (O/S Windows 2000).
Please bring your presentation on a CD or memory stick. Save your (powerpoint) presentation providing your name, first name, date and time, e.g. Name_First_28June_1400. If your presentation contains mpeg and/or avi movies, we recommend to pack the presentation with the "Pack and go" option of Powerpoint. This will ensure that all links are preserved well.
Please hand over your presentation at the Media-check if possible one day before your presentation.

Poster presentations

The size of your poster should be 120 cm in height and 90 cm in width maximally
It will be up to the poster authors to ensure set-up and dismantling of their own posters. The conference organizers and the Congress Center will take no responsibility for posters left in the Congress Center after dismantling time.
Set-up: Wednesday, 7:00 – 9:00
Topics
Clinical Applications, Systems, Software, and Validation
Medical Robotics, Surgical Navigation
Surgical Planning, Simulation, and Patient-Specific Models
Interventional Imaging, Advanced Intra-Op Visualization
Cognition, Modeling, and Context Awareness in the OR
Program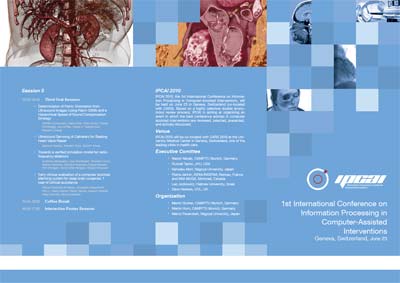 Important Dates
20 December 2009, midnight CET

Submission of full papers: closed

3 February 2010

Author notification

23 June 2010

Conference
Things to know:
A dedicated highly selective double anonymous review process with different review forms
30' long talks with unlimited discussion for each
Constructive and interactive friendly atmosphere
Fully dedicated to Computer Assisted Interventions
With different points of view: methodological and/or technical innovation, validation, clinical evaluation, system integration, ergonomics
Proceedings in Lecture Notes in Computer Science (Springer)
In case your paper gets good reviews but does not get selected for presentation within the IPCAI conference due to time and space limitations, you will be able to ask for automatic consideration and submission of your manuscript for the CARS 2010 conference.