For the IPCAI 2012 Conference page, please click here
After the first successful IPCAI conference, IPCAI organizes an event in which the best conference articles in computer-assisted interventions are reviewed, selected, presented and actively discussed.
IPCAI 2011, the 2nd International Conference on Information Processing in Computer-Assisted Interventions, will be held on June 22 2011 in Berlin, Germany.
IPCAI aims at taking the particular aspects of interest and importance to CAI into account directly during the paper review process. IPCAI will include papers presenting novel technical concepts, clinical needs and applications as well as hardware, software and systems and their validation. This year IPCAI will also include an organized joint session with ISCAS on clinical needs and opportunities, with significant discussions. Similar to Information Processing in Medical Imaging (IPMI), IPCAI makes sure that the paper selection process is finalized before the submission deadline of MICCAI conference organized in the corresponding year. This allows the authors of the papers not accepted by IPCAI criteria to resubmit a revised version of their paper to this conference. The format of the conference allows more time for constructive discussion. For each presented paper, at least thirty minutes will be allocated and questions will be prepared by committee members. We also plan a poster session with extended (5 minute) teasers and organized discussion.
News
Program now online (see below)!
Decisions have been sent to the contact authors.
Registration for IPCAI 2011 now open: http://www.cars-int.org/cars_2011/registration.html
The full paper submission deadline has been extended to December 17, 2010 (midnight CET).
The Program Committee would like to ask all authors to submit a title and abstract until December 13, 2010, in order to start up the reviewing process in time.
Submission system now open: https://precisionconference.com/~ipcai
Topics
Clinical Applications, Systems, Software, and Validation
Interventional Robotics and Navigation
Surgical Planning, Simulation, and Advanced Intra-Op Visualization
Interventional Imaging
Cognition, Modeling and Context Awareness
Program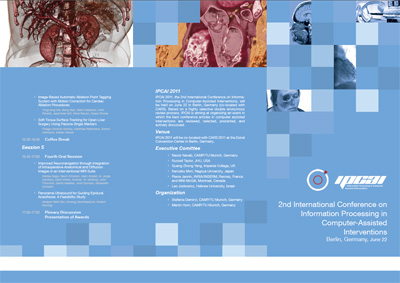 Important Dates
Deadline for full paper submission: December 17, 2010 (midnight CET)
Author notification: February 3, 2011
Conference: June 22, 2011
Things to know:
A dedicated highly selective double anonymous review process with different review forms
30' long talks with unlimited discussion for each
Constructive and interactive friendly atmosphere
Fully dedicated to Computer Assisted Interventions
With different points of view: methodological and/or technical innovation, validation, clinical evaluation, system integration, ergonomics
Proceedings in Lecture Notes in Computer Science (Springer)