THANK YOU FOR THE SUCCESSFUL WORKSHOP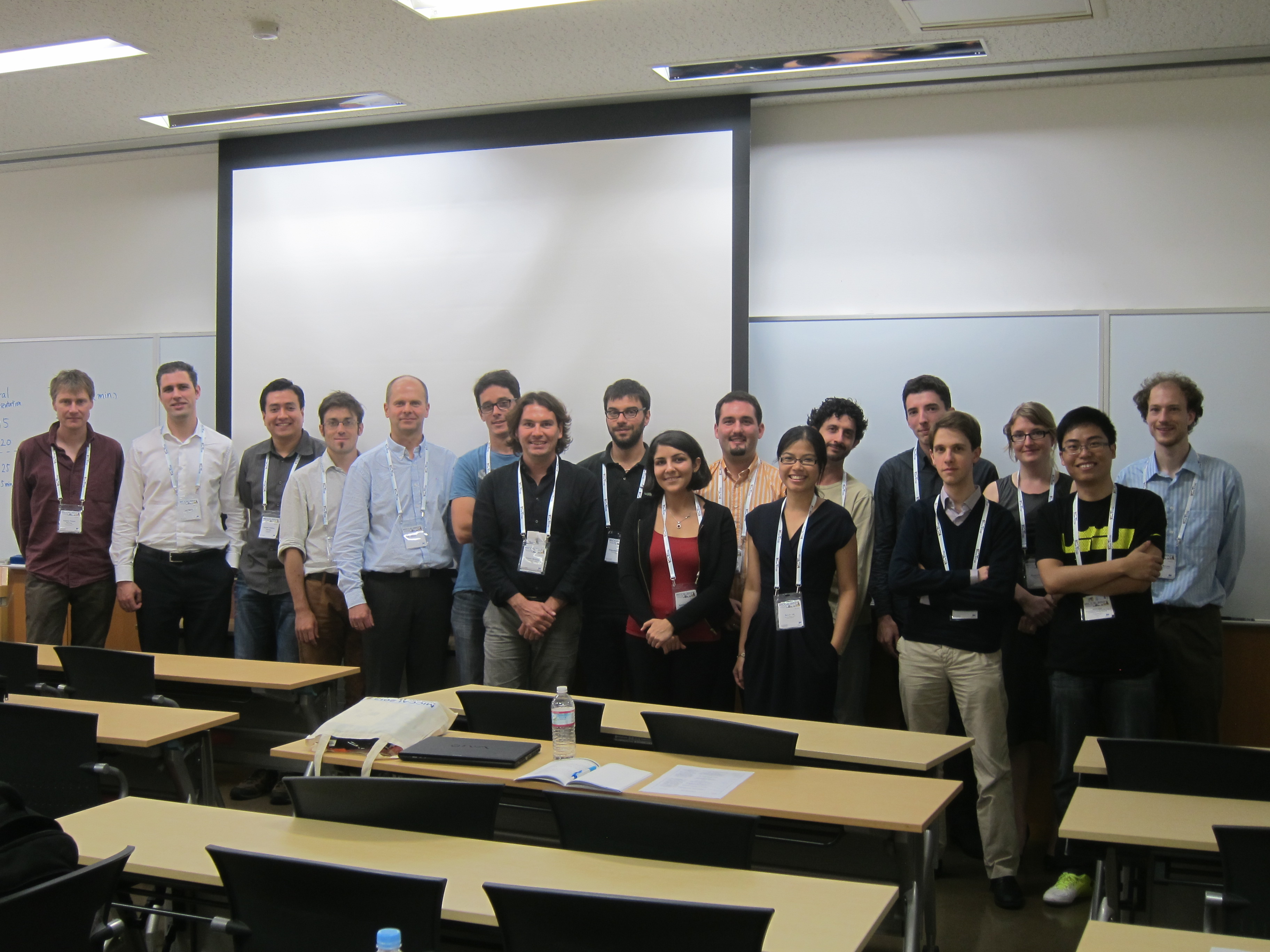 MICCAI-STENT'13
The 2nd International MICCAI-Workshop on Computer Assisted Stenting
This workshop aims to bring together scientific researchers and medical experts in the field of endovascular stenting procedures in different anatomical regions. While researchers concerned with cerebral, coronary, carotid, and aortic stenting have mostly published within their corresponding anatomy, the proposed MICCAI-STENT Workshop will provide a platform for scientific discussion on stent-related research across anatomical boundaries and will eventually be the basis for forming a specialized subcommunity within MICCAI.
The workshop will focus on imaging, treatment and computed assisted technological advances in diagnostic and intraoperative imaging. Such techniques offer increasingly useful information regarding vascular anatomy and function and are poised to have dramatic impact on the diagnosis, analysis, modeling, and treatment of vascular diseases. Computational vision techniques designed to analyze images for modeling, simulating, and visualizing anatomy and medical devices such as stents as well as the assessment of interventional procedures are therefore playing an important role and are currently receiving significant interest.
The 1st MICCAI-STENT workshop was held in Nice, France, in 2012 and received a lot of interest from the MICCAI community with a fully booked session (40+ participants), and 20 accepted papers. The 2nd MICCAI-STENT workshop aims at repeating such achievement focusing on a wider range of topics related to stent devices (highlighted in red in the list of topic below). To the best of our knowledge STENT will be the only workshop dedicated to these particular aspects of stenting procedures, and it is clearly complementary to the main MICCAI conference. We invite submission of papers presenting new techniques for every aspect of computational assistance for all kinds of stenting procedures regardless of their anatomical area (cardiac, aortic, cerebral, etc.).
News
Preliminary Program published!
Special Issue on Computer Assisted Stenting has been approved by Computerized Medical Imaging and Graphics Editorial Board! Check out the CFP for more infos!
Decisions have been sent to the contact authors: List of accepted papers
Final submission deadline extension: June 4, 2013 (11pm PST)
2nd CFP published
Submission deadline extended until June 2, 2013 (11pm PST)
Authors are asked to do an abstract submission until May 27, 2013 (11pm PST). All provided information will still be editable after that initial deadline!
Submission system now open! Find more details here.
MICCAI-STENT 2013 only accepts anonymous submissions following the MICCAI Anonymity Guidelines!
Submission Guidelines updated!
1st CFP published
Workshop proposal accepted by MICCAI Board
Proposal submitted to MICCAI 2013 workshop chairs
Scientific Topics
Imaging technique for struts/stent detection, reconstruction, and assessment
Computer-aided surgery for stenting procedures
Navigated stenting
Quantification of vascular morphology and function, stent vessel wall interaction
Detection and visualization of fluid dynamic changes induced by stents
Computer-aided diagnosis of post-deployment diseases (neo-intima growth, stent malaposition)
Planning of vascular treatments
Computer-aided planning of vascular treatments
Segmentation and anatomic modeling from vascular images
Image-based biomechanical models of stents, vascular anatomy and function
Image registration for stenting procedures
Hemodynamic image-based modeling
Analysis and improvement of stent design
Virtual stenting, and virtual deployment
Monitoring and Follow-up for Stent Implants
Efficiency of endovascular treatments based on stent devices
...
Preliminary Program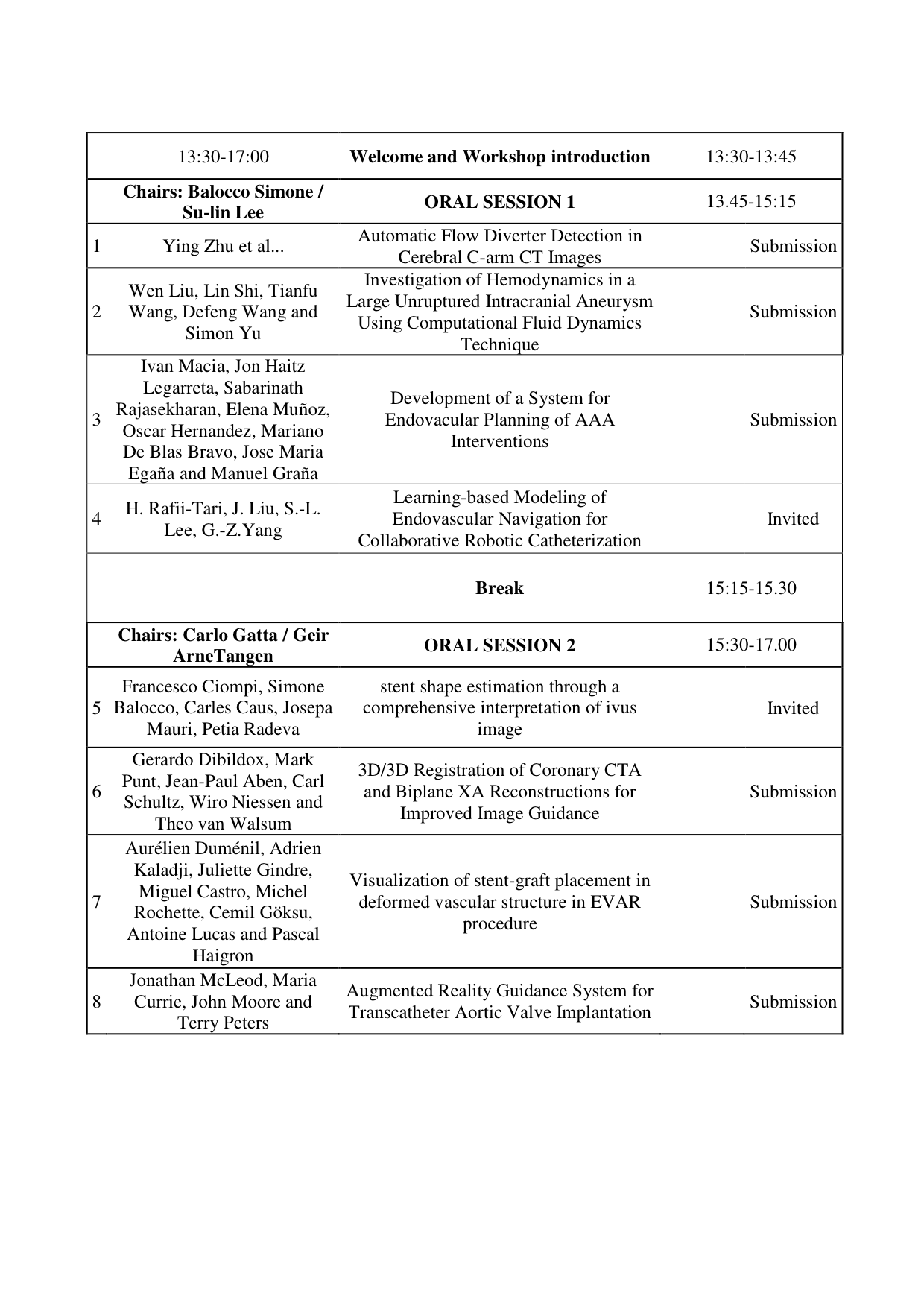 Proceedings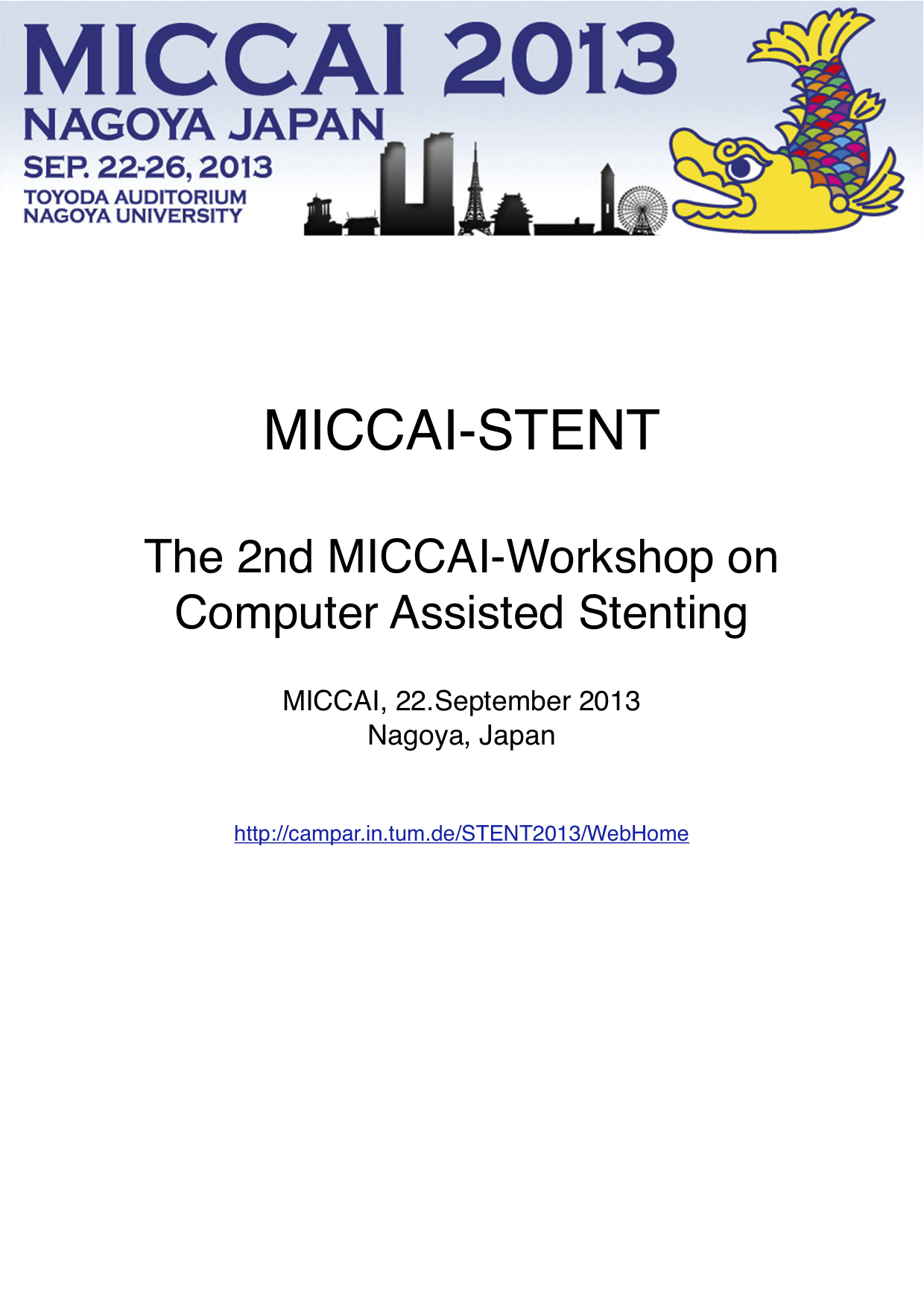 Important Dates
Abstract Submission Deadline: May 27, 2013 (11pm PST)
Full Paper Submission Deadline: May 27, 2013 June 4, 2013 (11pm PST)
Author notification: June 27, 2013
Workshop: September 22, 2013, 1.30 - 5 pm