New Year Party 2006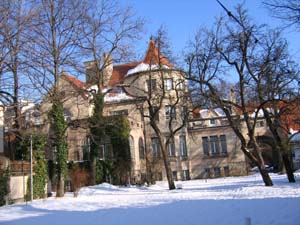 Seidlvilla Schwabing
When
Friday, 13th of January 2006. 8:00pm
Venue
The CAMP New Year Party 2006© will be at Seidlvilla (Schwabing). The address is:
Nikolaiplatz 1b
80802 München
Participants
Everyone is invited. Bring along your spouse or friend. Also ask our clinical partners and other people involved with CAMP to join the party. The more the better!
help
We have access to the room around 6:30pm. There will be some people from the previous event at least until 7pm. So we need help for preparing the room and nicly decorate it as well as the next morning to clean it up until noon. Thanks a lot. Joerg & Elena Friday, Jan 13, 2006; 6:30-8pm
JoergTraub
,
MartinHorn
,
MartinBauer
,
BenGlocker
,
MartinGroher
,
StefanHinterstoisser
,
ThomasGossner
Saturday, Jan 14, 2006; 10am-12nn
MartinHorn
,
DanielPustka
,
MartinBauer
(vorraussichtlich)
food & drinks
We have to buy drinks and organize a dinner. Suggestions are welcome.
what about korean food? -- MartinBauer - 20 Dec 2005

I like the food there. I'm eating there from time to time. For people who like it hot. -- MartinHorn - 21 Dec 2005
Sounds good to me. -- AndreasKeil - 21 Dec 2005

OK, i'll ask for a price quote. How many people will be there? How many were there last year? -- MartinBauer - 27 Dec 2005

Calculate around 50-70 people. We can order less and everyone brings a cake, salad, or schnickschnack along. -- JoergTraub - 28 Dec 2005
I will bring schnickschnackschnuck along. We should play Action Uno and Backgammon! -- BenGlocker - 29 Dec 2005

I will bring some Tunisian cookies -- SelimBenhimane - 9 Jan 2006
I will bring a "Nusszopf" -- KatharinaPentenrieder