Infos for Authors, Speakers, Demo Presenters
Infos for Presenting Authors
There will be a media check for all presentations at ISMAR 2005. Please submit your presentation at least one hour before your session starts on a USB-Stick or CD at the media-check desk. This will be next to the registration desk.
To guarantee a smooth integration of your presentation please mind the following guideline for the presentation:
Your presentation should be in PowerPoint or PDF format.
Ensure that you place the videos in the same folder than the file (use the "Pack and Go/Package for CD" option of PowerPoint).
Following Codecs are supported for video playback: XviD, DivX, Quicktime, Realplayer
If you have any questions in regard to your presentation do not hesitate to contact Joerg Traub ( ). You can also send your presentation in advance to this email and we will check it for compatibility.
Infos for Poster Authors
Poster
Poster boards will be 145cm high and 118cm wide. This means that they conveniently hold A0 format posters (84x118 cm, 33x47 inch) in portrait, but that landscape will be a close shave. Posters will be set up along several walls of the building. They should be clearly legible from at least a 2m distance. Please resist the temptation to put too much text on your posters. It will be much better to use visuals and explain them interactively.
Poster teaser
This year's ISMAR program will include a poster teaser session on Saturday Oct 8, 2:00-2:30pm that will give you the opportunity to advertise and present your work to the conference attendees. In the teaser session, presenters will have just one minute to entice conference participants to visit their poster during the Poster session immediately following. Use the
template
for the two slides that you should prepare for the teaser session. Please send them back to Andreas Butz () via email no later than Sept. 29, 2005. This is a hard deadline, since Andreas Butz will be in Vienna after this and will not have email access.
On the title slide, please put the name of your poster/demo and the authors and affiliations in the spaces indicated.
The second slide is your content slide; on this slide you should put whatever text and images you would like to show and talk about during your 60 seconds. You are welcome to use multiple content slides, but you still only have a total of 1 minute to present them.
Infos for Demo Authors
Demo Teasers
There will be a short "demo teaser" session on thursday. All of the demo authors should announce their demos during this session. Please send two Powerpoint slides
based on the templates
, until Monday, 3rd to . Keep the information simple and to the point, since everyone will only get only a time slot of under one minute! See also the tips below . Please also mail who will be presenting the teaser. If there is more than one demo from your institute, please name only one common speaker to reduce overhead.
Changed Demo Schedule
Regarding the demo session, there has been a change in the schedule: Since the first demo session will need additional time to set up, we decided to switch places between the first demo session and the poster session. The new schedule is:

Thursday: 
5:00-5:30pm     Demo teaser session (as planned) 
7:30pm:         Demo setup 

Friday: 
2:00-3:00pm     Demo session (as planned) 

Saturday: 
2:00-4:00pm     Demo session (new) 

At the start of the teaser session, we will give you a list with the sequence of the slides, so you can sort yourself, stand in line and walk onto the stage in the right order for your <60 second presentations.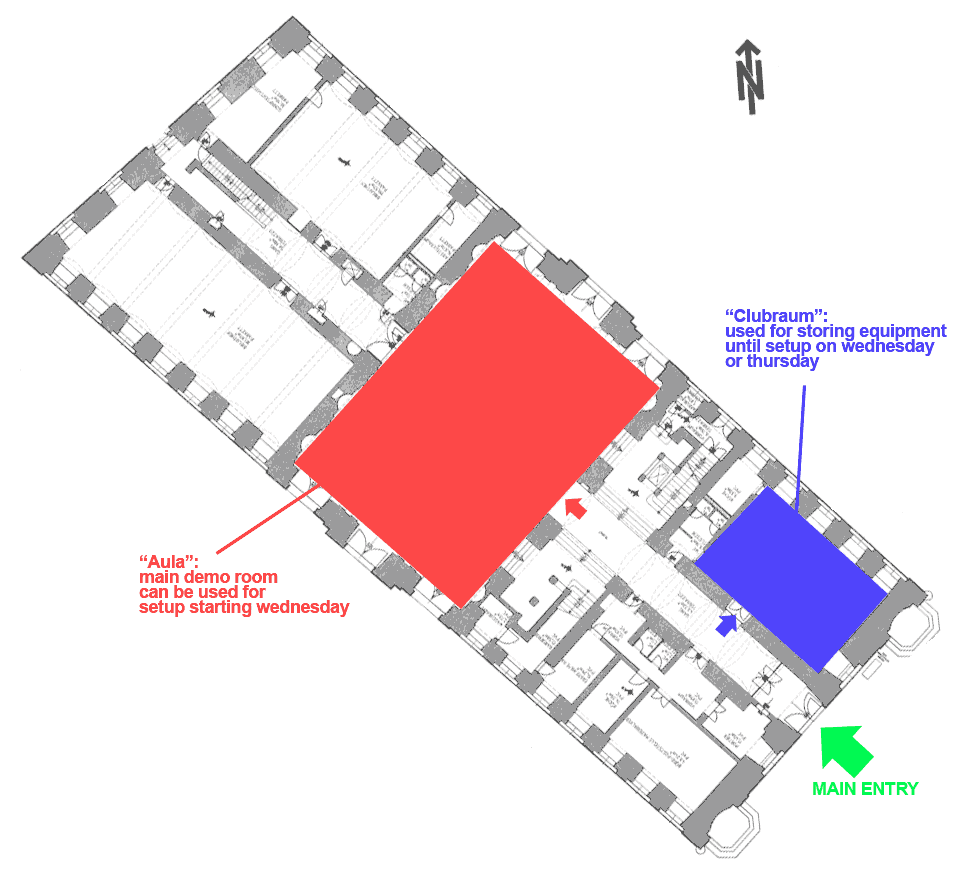 The interior of the Academy of Sciences.
Tips for preparing for the teaser session:
Save Some For Later: Do NOT try to present your your entire poster or demo during the teaser session! Remember, the idea is to generate interest in your project so people will visit it during the reception, not to make them feel like they've already heard all about it. It's often better to present a provocative idea, problem, or question that leaves people wanting to learn more rather than trying to summarize your entire project in a minute.
What Are You Looking At? Keep your slide simple and visual. The attendees will only be seeing your slide for 1 minute, so it may be better to use interesting images and/or small amounts of concise text so that they hear what you have to say rather spending the minute trying to finish reading your slide!
A Minute is a Minute: We're not kidding about this-- you get ONE minute, so make sure you know what you want to say, and practice it to make sure you can say it within 60 seconds- no more and, in your own interest, not significantly less! The session is going to be tight on time and we want to make sure everyone gets their turn. And we're not afraid to resort to extreme measures to make sure of this!
Remember, It's about teasing: Feel free to have fun and be creative, because (almost) anything goes in this session! You want people to visit your project, and we do too, so go ahead and make it an exciting minute!