Summer CAMPing 2006
The next CAMPing weekend takes place on:
Sept. 21st to Sept. 23rd 2006
in the same location as last time (Sport- und Studienheim in Kleinwalsertal ->
web page
). There will be a chance to stay on to Sunday Sept. 24th in case you want to extend your leisure activities.
Preliminary Schedule
Friday, 22 Sep 2006
08:00-09:00
Breakfast
09:00-10:30
Session 3
09:00-09:30
TUMULT - Triage in MCIs (SimonNestler)
09:30-10:00
(DanielPustka)
10:00-10:30
(BjoernSchwerdtfeger)
10:30-11:00
Coffee Break
11:00-12:30
Session 4
11:00-11:20
Nuclear Image Reconstruction (ThomasWendler)
11:20-11:40
Bronchoscopy (JoergTraub)
11:45-12:30
Interventional Ultrasound Fusion, SCR Research (WolfgangWein)
12:30-14:00
Lunch
14:00-16:00
Group Session
AR Group
Medical Group
Vision Group
16:00-16:30
Coffee Break
16:30-18:00
Session 5
16:30-17:30
BMW AR presentation (RudiLindl and LeonhardWalchshaeusl)
17:30-18:00
"official" CAMPing soccer match (MICCAI training)
18:00-19:00
Dinner

Saturday, 23 Sep 2006
08:00-09:00
Breakfast
09:00-18:00
Leisure activities
18:00
Optional Dinner & Departure
Saturday Hike
On Saturday there will be a family hike (everyone can join). Please add your name and your level of mountaineering experience so the organizer can adjust the level of difficulty... (there is always a drop off rate - if 75% can make it I would be pleased)
Sunday activities
Climbing: Hard climbing on Sunday (Joerg/Pete)
Mountainbiking (Christoph/Marco)
Location & Accommodation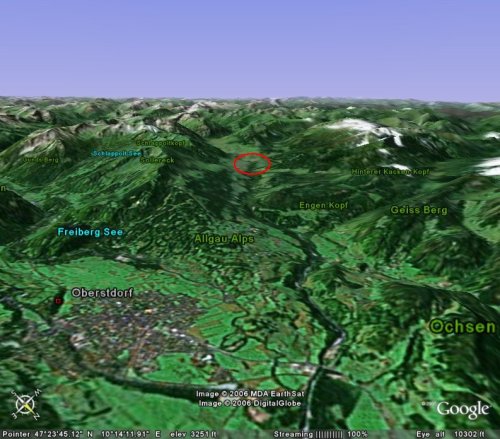 Panaramic view on the Kleinwalsertal
General Information
We will be accomodated in the
Sport- und Studienheim
situated in the beautiful
Kleinwalsertal
. This valley, although politically belonging to Austria, can be reached by car from Germany only. That's why our hotel also has a German address / postal code:
Wäldelestr. 16
87568 Hirschegg
Germany
When using route planners on the web, you probabely have to enter the Austrian address:
Wäldelestr. 16
6992 Mittelberg
Austria
Tel.: +43 5517 57680
Important Information about our Accommodation
We will get sheets for the beds, so you don't have to bring anything for sleeping.
Full board accommodation will be provided but you have to bring along some boxes for the lunch package
Attendees / Registration
Our accommodation
Directions and Car Sharing
Destination map
Easy but Long Directions (201km)
Directions on Mappoint
A96 to Memmingen
At Kreuz Memmingen change onto A7 to Kempten
At Dreieck Allgäu change onto A980 to Lindau, Oberstdorf
Turn south onto B19 to Oberstdorf, Immenstadt
Before reaching Immenstadt, follow B19/B308 to Oberstdorf
Stay on B19 (road name L201 in Austria) until you reach Riezlern
In Riezlern:

Follow Kleinwalsertal Landesstr.
Turn right onto Schwarzwassertalstr.
Turn right onto Wäldelestr.
→
PDF for Print
More Complicated but Short Directions (174km)
Those directions are similar to the ones above but introduce a shortcut from A96 to A7.
Directions on Windows Live Local
→
PDF for Print
Drivers
WebEventForm
Title:
Summer CAMPing 2006
Date:
21 September 2006
Location:
Sport- und Studienheim Kleinwalsertal
Abstract:
The next CAMPing weekend takes place on Sept. 21st to Sept. 23rd 2006.
Imageurl:
Type:
News